Frank Kelso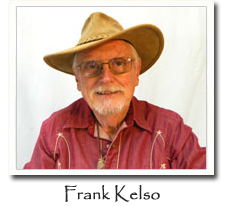 Frank had a successful career as a biomedical research scientist. He wrote grant applications and published scientific papers to fund his research. The funding agencies submitted these applications for peer review by other scientists to determine which had merit for funding. One critique of Frank's work suggested his application read more like science-fiction than science. His colleagues' teased him, challenging Frank to write science-fiction—and a new career began. The science-fiction genre didn't fit Frank's imagination, he returned to this roots of old west events and characters getting ready for the Santa Fe Trail in Independence or Westport Landing, MO. Frank spent his teen year near Liberty Mo, Jesse James' Home town. He visited family in St. Joseph MO where the Pony Express began. It seemed natural for Frank to return to the stories he heard as a kid about the characters who came and went in the Old West days. Frank used the man who founded St. Joseph MO, Joseph Robidoux, as a character in TIBBY'S HIDEOUT, the last short story in THE POSSE. Tibby story is one chapter in a chap book titled PIONEED WOMAN, scheduled for release in 2018.
Two of Frank's short stories were at the Finalist level in the Florida Writers Assn. His first major work was in an anthology of western short stories titled, THE POSSE. THE POSSE peaked at #4 on Amazon. There is a link to it in the BUY NOW Tab.
Links to Frank's WEB pages
https://www.facebook.com/thepossebook.1
https://www.facebook.com/CABoundBook/
https://www.facebook.com/AuthorFrankKelso/
http://frankkelsoauthor.com
@authorfrankelso
https://www.pinterest.com/authorfkelso/
http://thepossebook.com
frank@thepossebook.com
---
John O'Melveny Woods
Mr. Woods has been writing screenplays, television shows and books since attending the University of Southern California's School of Cinematic Arts in the early 1990s. Prior to this he was CEO of USA Print, a print brokering company with printing facilities in the Philippines, and TFM Corporation, an aircraft production company located in Gardena, California.
Shortly after film school he created and founded indieTV.com. Through this company he partnered with Microsoft Corporation in 1999 to develop leading edge interactive television technologies. indieTV filmed and created the first fully integrated hi-definition interactive television show — 555-Expose. The show was written and produced by Mr. Woods and is still used as an example of the potential for interactive television.
His first fiction novel, Return to Treasure Island has received numerous awards and recognition including the prestigious Silver Medal for Book of the Year by the Independent Book Publishers Association (IBPA) and Book of the Year for Young Adult fiction from the San Diego Writers Association. The book was forwarded by LeVar Burton of Reading Rainbow and Star Trek fame and was praised by Clive Cussler and Jack Butler.
He created and Executive Produced Jesse James Hidden Gold, which aired on the History Channel and is based on his book Jesse James Secret.
His latest releases are the action/adventure novel Lost Tomb of Alexander, and his memoir of growing up in the 1960's The Crusaders.
He founded Veritas Entertainment Group LA in order to tell positive stories about the South. John also lectures and teaches courses in writing and publishing and currently resides in Fairhope, Alabama.
His latest book, California Bound, is his first book in the Western Genre'.
Links to John's WEB pages.
http://johnwoodsauthor.com/
http://TheCrusadersBook.com
http://LostTombOfAlexander.com
http://JesseJamesSecret.com
http://TreasureIslandBook.com